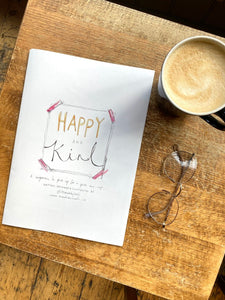 HAPPY AND KIND is an all new positivity magazine aimed at ALL ages from kids right through to adults, and designed to look fabulous on your coffee table or on your desk to pick up for a little pick me up.
If you love following us on instagram and love my positivity doodles and phrases you'll love this 12 page partial gloss magazine full to the brim with illustrations and positive quotes and phrases.
If you buy one thing for a present, yourself, you children or anyone from me, MAKE IT THIS! I'm very proud to be bringing positivity with this magazine and hope it's very well loved by everyone who reads it.
If you need a pick me up, simply flick to a page and read a quote and it'll inspire you for the day. Thanks for believing in me, I hope this makes you believe in yourself a little more too. 
A4 in size and the perfect gift or self care item.