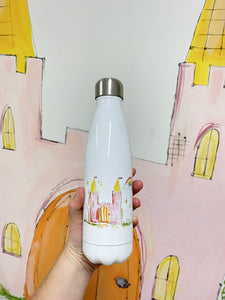 Chilly style castle water bottle.
With the made by Leah pink castle on the front of the bottle and a gorgeous white background and silver coloured lid, this is a MUST have Made By Leah product!
Exact product details below:
Stainless steel 500ml water bottle.

A great alternative to plastic bottles that features a leak-proof double wall construction to keep your drink chilled for up to 24 hours or hot for up to 12 hours.

Key points:
- Stainless steel
- Handwash recommended

Measures:
26cm tall by 7cm wide. 500ml capactity.