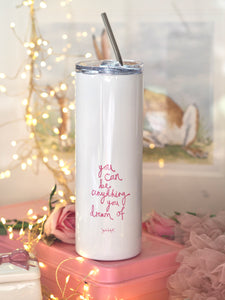 Welcome in the warmer days and longer nights with this new Spring collection.
These tumblers are new for this collection and come in limited numbers! These enamel coated stainless steel can be used for hot and cold drinks. The lid features a rubber seal and sliding opening and a reusable stainless steel straw is included too.
20cm tall and 7.5cm in diameter, these tumblers hold 500ml.
'You can be anything you dream of' design on both sides of the flask.