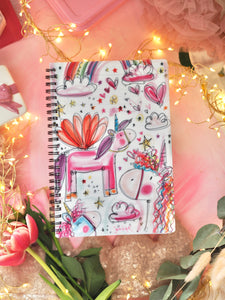 unicorn notes! these A5 spiral bound Notebooks are perfect for use at work, school or university and remain compact enough to stash in your handbag or tote bag.
This handy Notebook features the Made by Leah unicorn magic design on the plastic matte front cover and contains heavy weight lined pages inside. with a plastic matte backing piece, too. This means they are wipeable and long lasting.
The perfect gift, these notebooks are sturdy, practical and special.