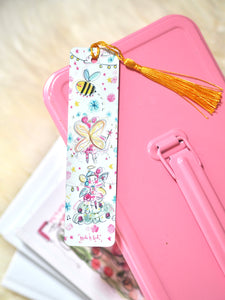 The perfect metal bookmark!
This metal bookmark is perfect for a Made by Leah lover to save their page. A great gift alongside a book or the Made by Leah 2024 diary- or great by itself too!
Please note, the colour of the tassel may be different to the photograph- this is out of Leah's control as they come in totally random colours.
Designed by Leah and printed locally in the UK.
This shows the wonky fairy design, which is part of 'The Wonky Fairy Shop' and matches a whole host of products, check them out for the perfect gift bundle!
This would also be the perfect gift with 'The Wonky Fairy' which is a new book this season and set to be a best seller- it's magical!