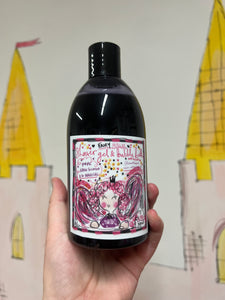 Made by Leah has turned dark for spooky and cosy up season!
A gorgeously DARK 3 in one bottle!
500ml of gorgeously purple/black, purple rain scented silky shower gel. (Does not come out as really dark, just a gorgeous smell, with a hint of colour!)
This product can also be doubled up as bubble bath or hair care.
Crested by the AMAZING fizzy by issy for made by Leah, this is a must have for your bath time this halloween or hibernation season!
made by Leah illustrated sticker.