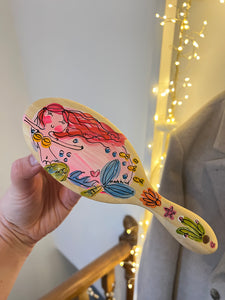 JANUARY BRUSH CHALLENGE.
Each January brush is a one off, these brushes are a perfect gift for someone who loves their hair! As a bud to get some creativity back in January, Leah has painted a brush every day. There's only one of each currently!
These would be a brilliant back to school or birthday gift- or even a treat for yourself.
Hand painted made by Leah design onto a wooden hair brush, originally painted by Leah every day in January as a creative challenge.
Please add the name to personalise in the "notes" section at the checkout or email itsmadebyleah@gmail.com with your order number and name of choice.
This product is non refundable as they are painted and personalised to you.