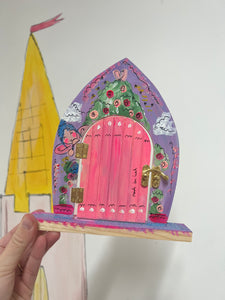 Wooden fairy door, for entering a whimsical world!
This wooden fairy door opens with a golden hinge, and is totally hand painted by Leah.
Once hand painted, each door has been glittered, inked and brought to life by Leah and varnished so it lasts for a long time to come.
Each fairy door is a unique design, one of a kind and only one available.
The fairy door in the photo is the one you will receive! They are just a wonderful make believe addition to any bedroom (or lounge, I don't judge!) Act fast on these.
Non refundable due to being hand painted in nature.
Measures 21cmx18.5cm